2020 ASPC/AMHR Eligible Chestnut Pinto Stallion
Aloha Rayvik Maserati x JHK Marios Rocket Jewel
Foaled 5/29/2020
"On a scale of 1-10, this colt is a TWELVE!"
Evaluated as a weanling by one of the industries top judges, THIS was his comment regarding this 2020 stallion
PROJECTED TO MATURE 37-38" AND READY TO SET THE SHOW RING ON FIRE!
$10,000.00 SHOW HOME ONLY
2020 AMHA/AMHR Eligible Chestnut SHOW Mare
AMHA/AMHR Eligible Shetland Blend Mare
loha Acres To Hellen Silence
Foaled 3/23/2020
This 2020 mare is destined for the show ring.
One of our TOP foals of 2020 with an outstanding pedigree!
She is sired by the Triple Registered stallion MASERSATI and out of a lovely Nighthawk/Silent Partner bred mare.
You NEED to see this mare in person - she is ALL THAT.
Looking to mature 33" to 34"
PRICED TO A SHOW HOME AT $4,500.00
LL MiniRock 2020 Chestnut Pinto Mare by Maserati
AMHR Eligible 2020 Chestnut Pinto Mare
Rayvik Maserati x MartiGras Scarlet Mistress
SOLD
2020 BAY PINTO COLT BY JHK ROCK E MR CANDYMAN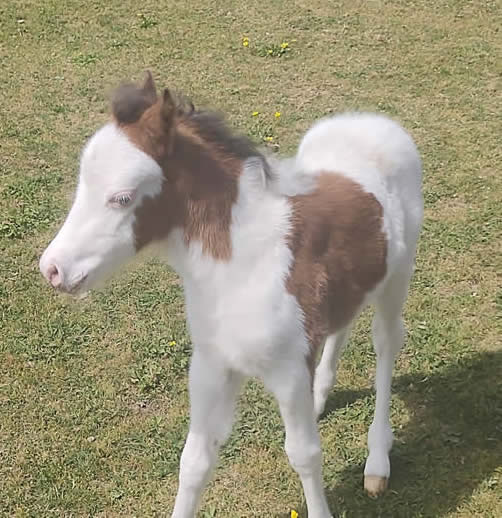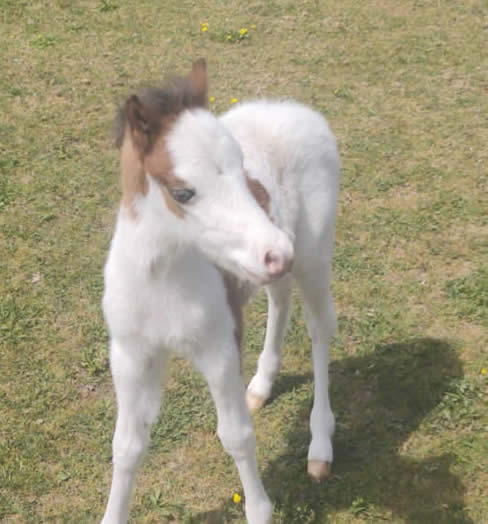 ASPC/AMHR Eligible 2020 Bay Pinto Stallion
JHK Rock E Mr Candyman x Amore Mia Mercedes
Foaled 3/28/2020
IMAGINE WHAT A STANDOUT THIS GUY WILL BE IN THE SHOW RING!
His brilliant pinto markings in harness when he's old enough to drive!
This stallion has FANCY movement with the attitude and boldness to become a top performance horse.
His pedigree is worthy of keeping his as an intact stallion but he's also make a phenomenal GELDING.
He is on track to mature between 35" and 36" tall.
LET'S TALK! HE COULD BE YOUR NEXT CHAMPION.
$1,500.00
OR BEST OFFER TO A SHOW HOME
Karen Rudolph (Agent)
karen@minihorsesales.com
(617) 320-3313 (text only please!)

ALOHA IS OFFERING A FEW OLDER, RETIRED BROODMARES FOR SALE OR FREE TO FOREVER/PERFECT NON-BREEDING HOMES!
Text Karen 617-320-3313 to inquire

INQUIRE ABOUT OUR BROODMARES FOR SALE! PHOTOS AND MORE INFO COMING SOON.
CALDWELL'S CHANTILLY LACE
2014 ASPC/AMHR Bay Pinto PROVEN Broodmare 36"
HEAVY in foal to Grahams Little Sky Lite for 2020
$2,500.00 OR BEST OFFER
DAKOTA SAN JUAN OF ALOHA
AMHR Registered Stunning PROVEN Broodmare
In foal for 2020 to JHK Candyman
$2,500.00 OR BEST OFFER
ALOHA ACRES AFFAIRE IN THE LITE
AMHR Registered Bay Pinto PROVEN Broodmare
Sells with her March 2020 AMHR Eligible pinto colt by PARTNER
$2,500.00 TWO-IN-ONE PACKAGE DEAL
JHK MARIOS EBONY AND IVORY
ASPC/AMHR Black Pinto 2011 36.5" PROVEN Broodmare
IN FOAL FOR 2020 to Candyman
Establo Mario x SRS Cookies And Cream
5/13/2011
$2,500.00 OR BEST OFFER

2019 AMHR/ASPC SHOW MARE FOR SALE
$3,000.00
RAYVIK MASERATI X DAKOTA VICTORIA
karen@minihorsesales.com

ALOHA ACRES THERE IS NO SUBSTITUTE
ASPC/AMHR 2019 FANCY SHOW MARE
$8,500.00
karen@minihorsesales.com

TRIPLE REGISTERED 3 YEAR OLD MARE
$3,500.00

AUCTION RESULTS FROM THE ALOHA SELECT SALE SEPTEMBER 30, 2017
LOT #1 ALOHA ACRES IM SUPER COOL -2016 AMHR MARE ~ $1,100.00
LOT #2A BREEDING TO ALOHA STALLION (#1) ~ $2,100.00 (NEON)
LOT #2B BREEDING TO ALOHA STALLION (#2) ~ $2,050.00 (CANDYMAN)
LOT #2C BREEDING TO ALOHA STALLION (#3) ~ $2,000.00 (MASERATI)
LOT #3 RHAPSODYS RICOCHET - 2009 TRIPLE STALLION ~ $14,500.00 +++
LOT #4 BAR B MY SILENT HEART - 2013 A/R BRED MARE W/FOAL AT SIDE ~ $6,500.00 *
LOT #5 ALOHA ACRES LOOKIN FANCY - 2017 R/SHETLAND RES NATIONAL CHAMPION FILLY ~ $5,100.00
LOT #6 JHK MARIOS GLAMOUR GIRL 2011 R/SHETLAND BRED MARE ~ $4,150.00
LOT #7 ALOHA ACRES DESIGNED BY NEON - 2017 TRIPLE COLT ~ 4,600.00
LOT #8 ALOHA FRF BRANDY LITE - 2017 A/R SORREL PINTO FILLY ~ $2,500.00
LOT #9 ALOHA ACRES CALDWELLS WHITE DIAMOND - R 2013 BRED MARE ~ NO SALE (INQUIRE FOR PRICE!)
LOT #10 ALOHA ACRES SPRINGHILL HELEN SILENT LITE - 2016 A/R MARE ~ $3,250.00
LOT #11 ALOHA ACRES TWYLITE PRINCESS - 2015 NATIONAL CHAMPION R/SHETLAND MARE $11,100.00 ++
LOT #12 ALOHA ACRES A GUIDING LITE - 2016 R/SHELTLAND BLACK STALLION ~ $2,300.00
LOT #13 ALOHA ACRES A LITTLE BIT OF SILENCE - 2016 A/R 29" BLACK PINTO SHOW FILLY ~ $3,600.00
LOT #14 ALOHA ACRES SILENT SERINITY - 2011 A/R BRED MARE W/FOAL AT SIDE ~ $3,500.00
LOT #15 JHK MARIOS RUBY ECHO - 2014 R/SHETLAND BRED MARE ~ $4,750.00
LOT #16 ALOHA ACRES SPARKLE N SPIN - 2010 WC A/R MARE W/COLT AT SIDE ~ NO SALE
LOT #17 JHK MARIOS CALL ME STAR - 2011 R BRED MARE W/FILLY AT SIDE $4,750.00
LOT #18 ALOHA ACRES WHITES ALL WRIGHT - 2017 R/SHETLAND FILLY ~ $6,250.00 *
LOT #19 JHK MARIOS PRINCESS - R/SHETLAND 2011 BRED MARE W/COLT AT SIDE ~ $6,500.00
LOT #20 CALDWELLS POSITIVELY ELITE - R/SHETLAND 2014 BRED MARE ~ 4,000.00 *
LOT #21 CALDWELLS CALICO KATE - 33" 2014 R/SHETLAND BRED MARE ~ $7,700.00 +
LOT #22 ALOHA ACRES SHES A SILENT KICKER - 2009 A/R BRED MARE ~ NO SALE (INQUIRE FOR PRICE)
LOT #23 TYLERS KASHMIRE SAPPHIRE OF LTF - R/ SHETLAND 2013 BRED MARE ~ $6,750.00